How We Built Gocap, Facilitating Data-Driven Care for Injectable Medicine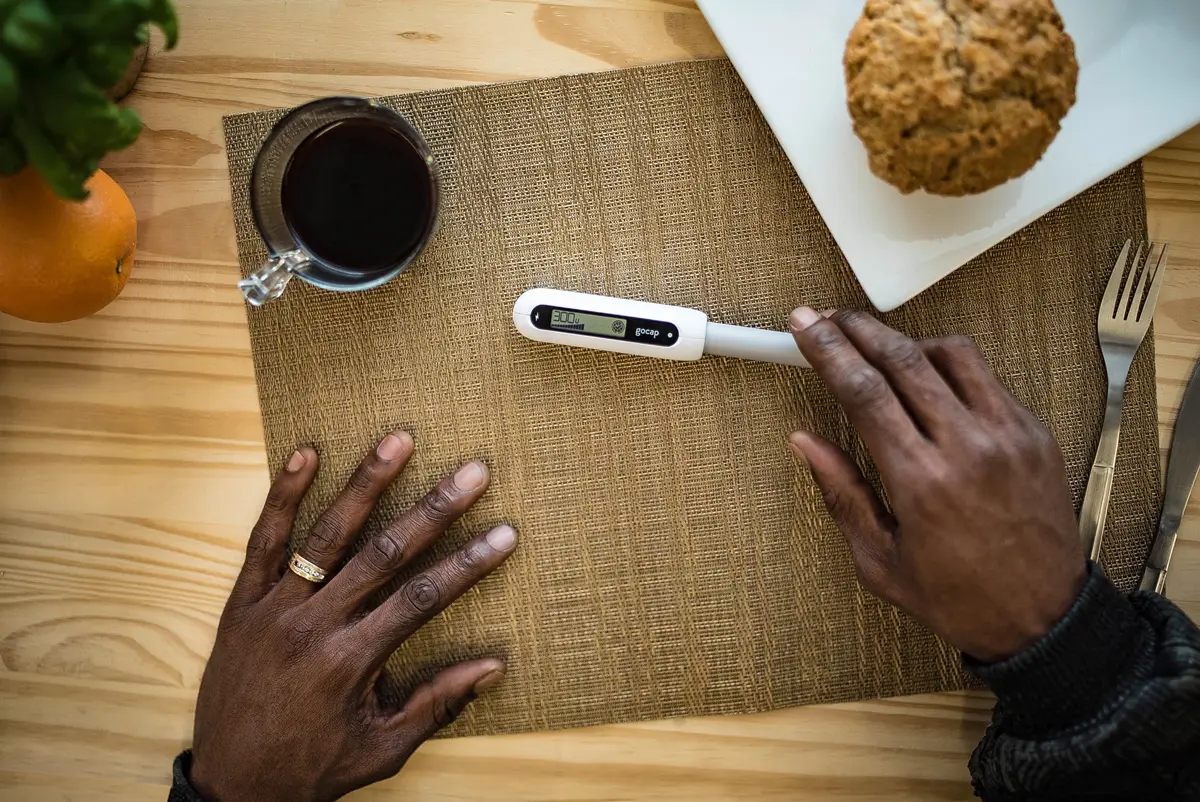 Common Sensing succeeded in bringing a novel smart hardware device from concept to market in a difficult space.
Common Sensing is the company that reworked home treatment of chronic disease. We designed and manufactured connected health technology to help people with chronic disease improve their care. Diabetes is the most expensive chronic disease in the United States, but success with managing diabetes doesn't happen in the clinic — it happens at home.
Gocap succeeded where other products fell short because of our Human-Centered Design process. We overcame significant regulatory and adoption hurdles by working collaboratively with hundreds of Gocap users. We uncovered and solved for their needs and pain points, forging Gocap into a lifestyle experience that users love and empowers them to take control of their own health.
We created Gocap, a smart cap for injection pens that acts as a "Fitbit for Insulin".
Over $200B of direct medical costs in the United States are attributed to diabetes. More than half of people aren't meeting their goals in treating diabetes. For comparison, the entire consumer electronics industry in the United States is also around $200B. (What if half of people in the US had the same problem with all consumer electronics they purchased?)
James White
Richard Whalley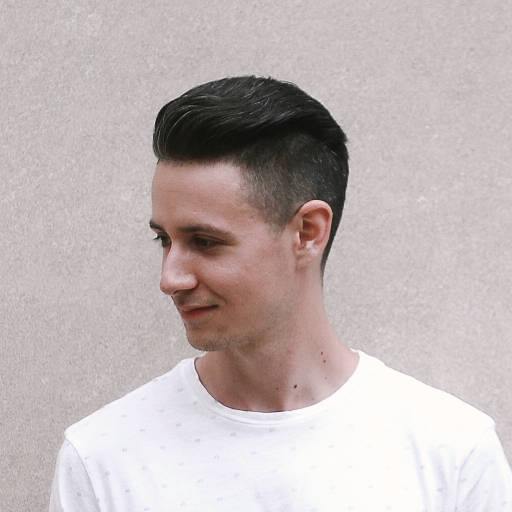 Matt Legrand
I met Rich and Jamie after working on a service design initiative at IDEO related to insulin adherence. We created Gocap, a smart cap for insulin pens that measures each dose without interfering with the patient's use flow, logs the dose data via Bluetooth to the companion iOS or Android app, and shares the data with clinicians in real time. Gocap monitors and supports people between doctor visits, and wraps them in an active support network for success with their treatment.
Getting the hardware right
Compared to software, there aren't many chances to iterate when designing a novel IoT product. While early prototypes were 3D printed on demand, a production ABS mold might cost $80K to produce, so cost efficiencies only come with scale.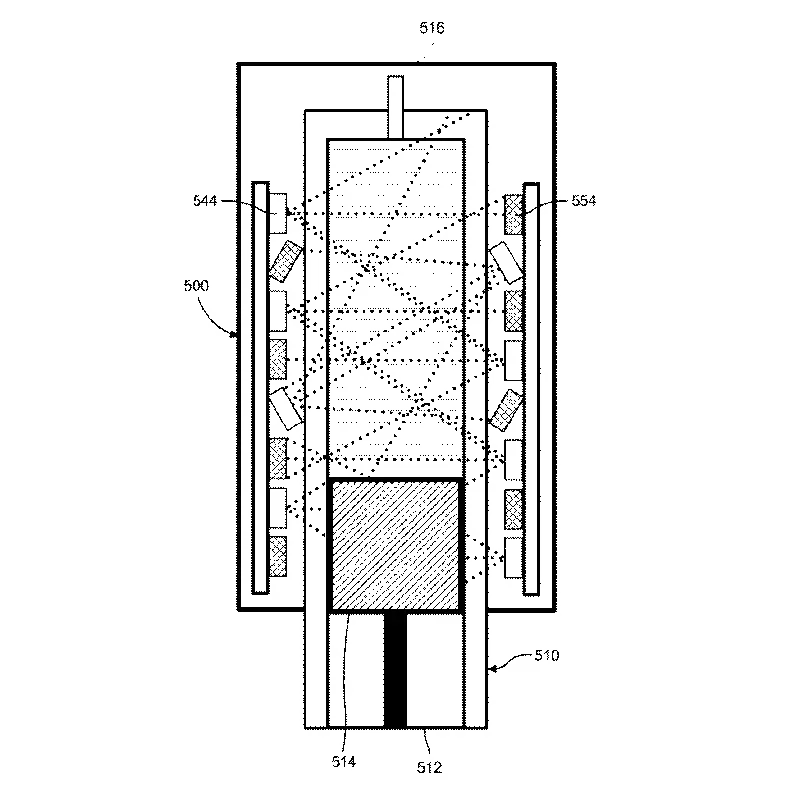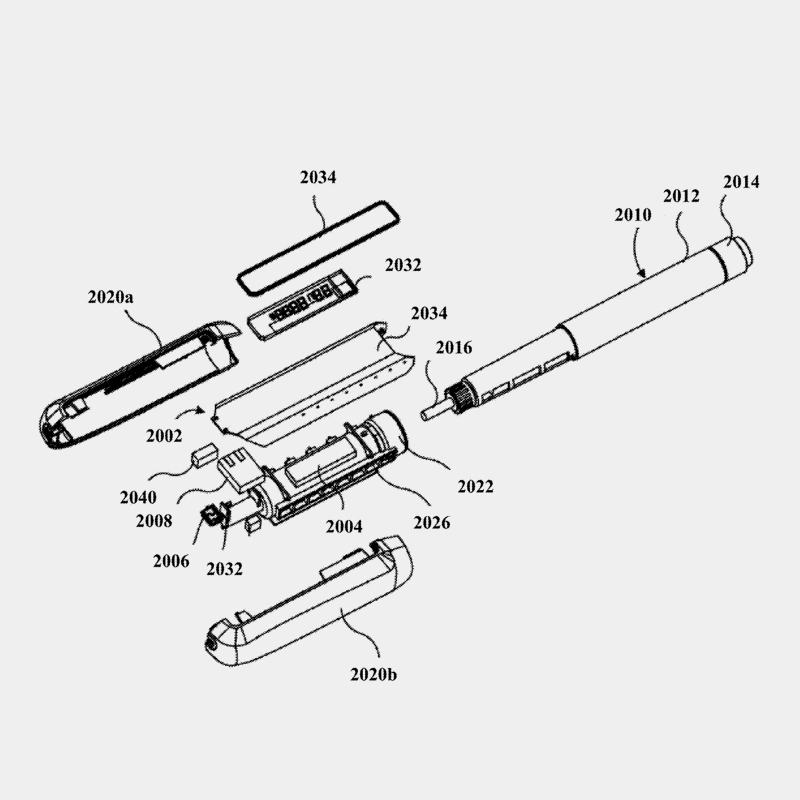 I was particularly interested in the percieved differences in objects we have to use and objects we want to use. Many objects that meet health needs are percieved as scary, unappealing, or unworthy of public display. Not so for eyeglasses; They're an article of fashion, even though they serve a medical purpose — correcting vision. What's the delta between eyeglasses and a hearing aid?
By placing Gocap's industrial design and user experience solidly within the design language of consumer wearables and other lifestyle products, we created a tool that people actually wanted to incorporate into their daily routine, and develop positive relationships with.
Co-designed by Gocap users
We conducted hundreds of one-on-one interviews, simulated use studies, and usability sessions, recorded in terabytes of GoPro footage.
Do you want to be automatically reminded when it's time to take your medication, or warned if you're about to do something unsafe? How about if you don't own a mobile device? Questions like these led to quick prototypes that ended up in the validated version of Gocap, which can differentiate between different types of medication and let a clinician or caretaker know if there's a problem.
By inviting users to share their needs and ideas with us, we kept them involved at every stage of creating Gocap. It's how we made Human-Centered Design a core part of our process. It's also a requirement for demonstrating a medical device is safe and effective to use, achieving a successful FDA 510(k) submission — an important milestone to commercializing a device used for managing health.
Packaging design for easy onboarding
Since Gocap wouldn't always be deployed in person, It was important users would be able to set up Gocap with their injectable medicine, charge their Gocap, download and install the Gocap App, and sync Gocap to their device over Bluetooth, all without intervention. Gocap's packaging design made this possible by providing affordances and education during the unboxing process.
Gocap App featured design innovations that threw conventional UI out the window.
Working with a diverse user population uncovered needs that are often ignored. Over a third of prospective users had never owned a smartphone before, and were using one for the first time in order to get the most out of their Gocap experience.
These users weren't familiar with the digital design paradigms and semiotics we've become accustomed to over decades, like gestural interaction and basic iconography. Typical design strategies for affordance wouldn't work here.
The Gocap App for iOS and Android needed a novel approach to interaction design based on a new set of guidelines:
App design guidelines
No navigational UI.




One screen, one action.




Zero reliance on iconography.




Use color to create a sense of category and place.



Gocap App is a catalyst for behavior change, with adaptive support and 12 months of education content.
Gocap Dash let care providers focus on patients that need their attention.
The care map for injectable medicine is complex and includes the patient, their family and caretakers; care providers (doctors, coordinators, and more); payers, and pharmacy. In addition to providing data directly to patients, Gocap provided novel data streams to other approved parties in the care map, reducing costs and improving treatment.
We built Gocap Dash, a web application for care providers that shows population-level stratification, real-time dose information, categorizes patients based on risk, identifies intervention needs, and characterizes correllated behaviors: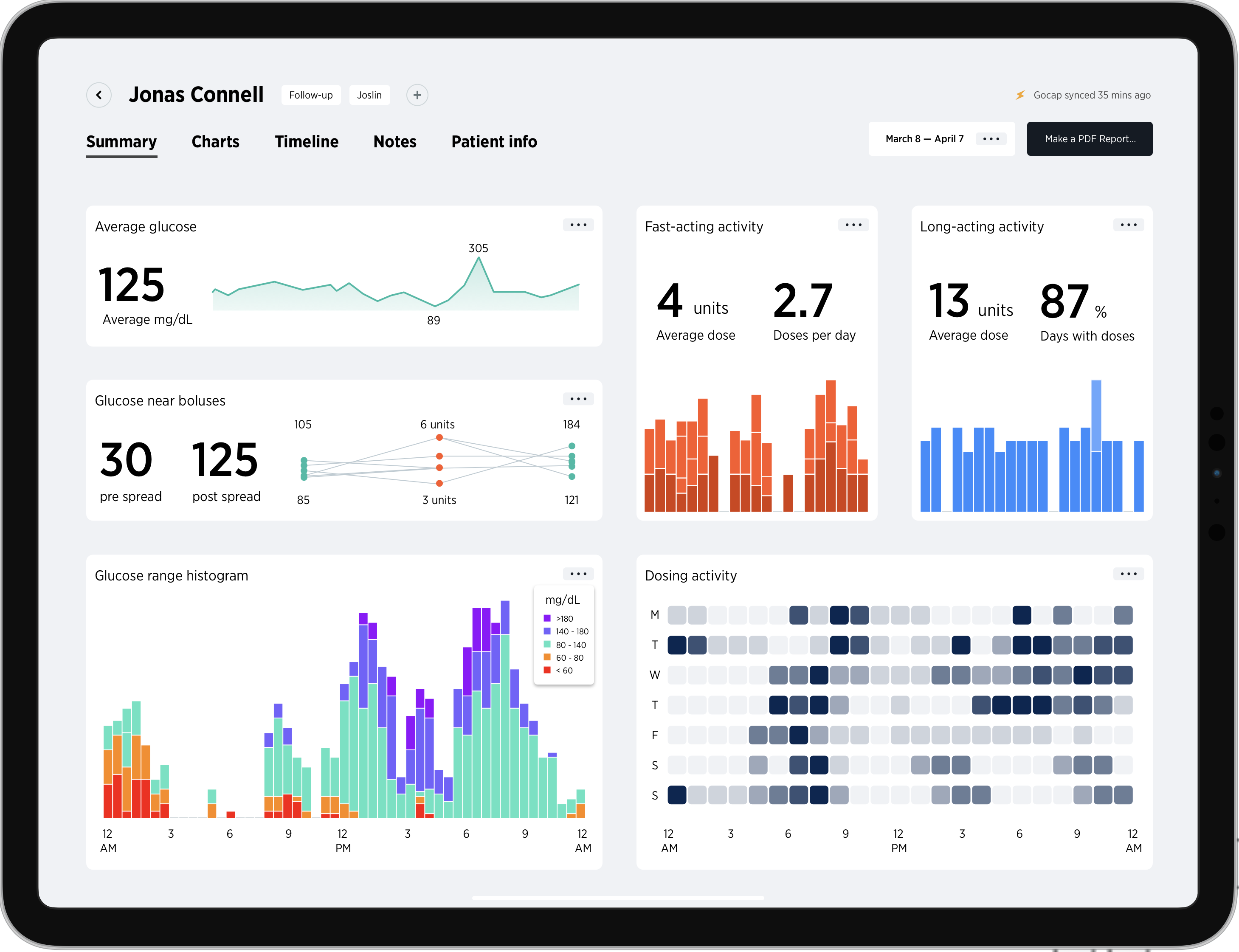 A unique problem: optimizing for fax machines
Gocap Dash is powerful, but not everyone in the care map could take advantage of that power. Hospitals, especially, can be hobbled by red tape or antiquated processes. We found that many care providers were stuck using older computers (running Windows XP after its end-of-life), or weren't able to connect to the internet from systems where they handled patient information. We discovered that sending patient records over fax was one of the most common methods for transferring and viewing health data.
To handle this, we implemented PDF exports and direct-to-fax capability. Additionally, we optimized the data visualizations in exports to render well in the low-pixel scan area available in a typical fax.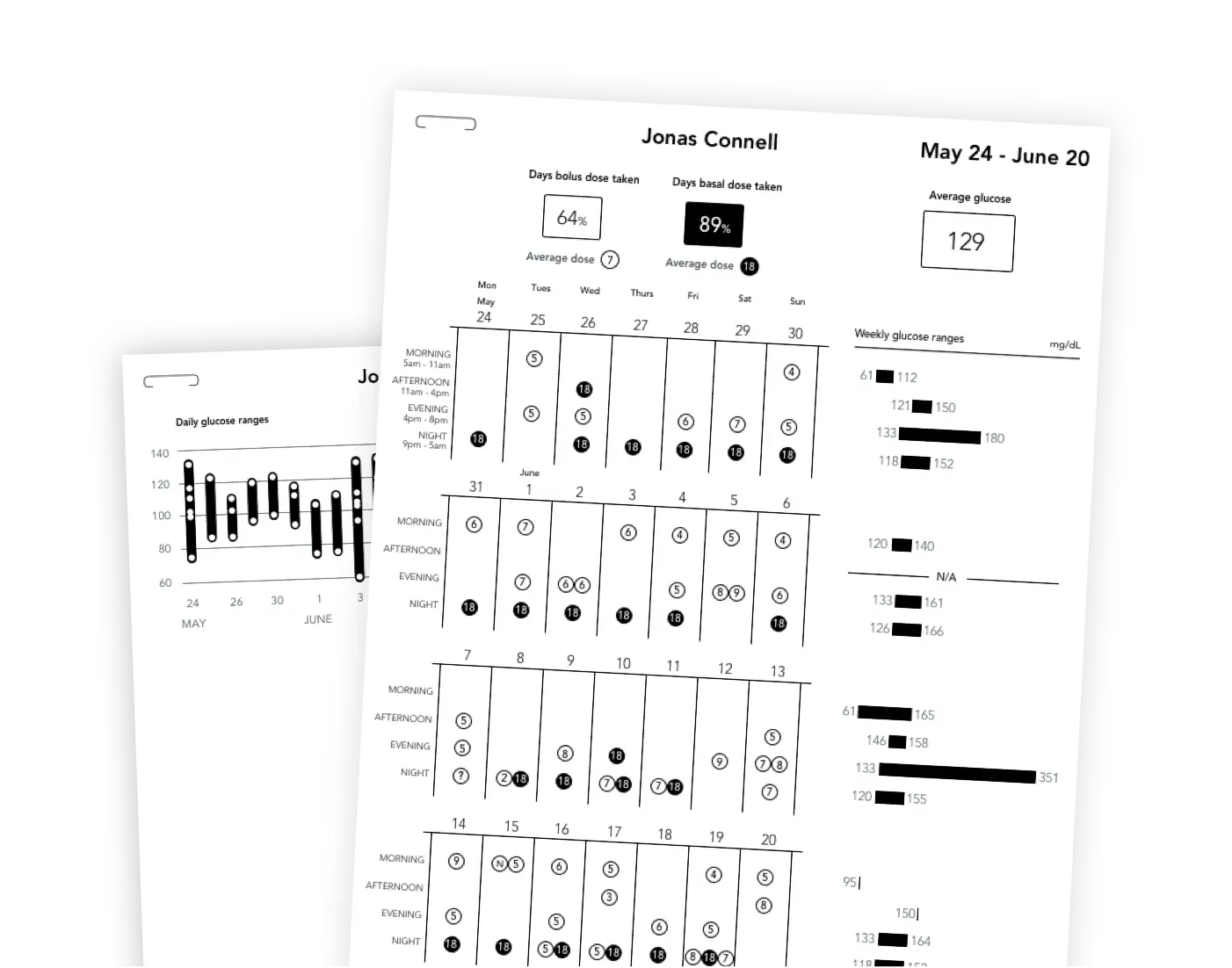 Clinical outcomes
Through a groundbreaking connected health study in partnership with the Joslin Diabetes Center, we demonstrated that using Gocap creates positive outcomes for users, and uncovered never-before-seen behavioral data — including widespread insulin use issues — that informs new clinical strategies in diabetes treatment.
Gocap serves more than 7 million patients whose data was previously invisible to their clinicians and themselves.
After demonstrating Gocap's safety, efficacy, and usability, We partnered with connected glucose meters and injectable pens to commercialize Gocap as a component of bundled solutions, fully "closing the loop" for clinicians wanting to inform their care strategies and patients wanting better insight and support in their treatment.
Gocap was also expanded beyond insulin to other high-risk injectable medicines, like hormone and fertility support.
Acquisition and Exit
In 2021, Common Sensing was acquired by Bigfoot Biomedical, and Gocap became part of Bigfoot's packaged solution for diabetes care.
We found that the most effective way to both maximize patient access to Gocap, and empower patients and doctors with complete data, was to deliver Gocap jointly with the other connected health solutions. Since Bigfoot was already assembling the other pieces of this puzzle, it was a natural fit.